Hi Friends!
I hope you have enjoyed this Christmas season so far.  I sure have.  I got some much needed R&R and spent time with family and friends.  But I have missed sharing with you the last two weeks.  So I am doing something a little different with my blog to close out the year.  I am bringing you a three part series over the last three days of December.  As the sun is setting on 2021 and rising on 2022 I can't help but look back in gratitude.  I hope you enjoy these reflections and are inspired to capture some of your own before the year ends.
When I was growing up, I often went to church with my family on New Year's Eve.  Sometimes the service would include testimony time, where anyone could come forward and share what the Lord had done for them that year.
Well friends, it's testimony time! 
And I believe that every testimony comes with a lesson. So for the next three days I will be counting down the top three things I learned in 2021 and sharing the testimonies that accompanied these lessons. 
3…2…1…Let's go!
Lesson #3: Healing Still Happens!
Listen, I am just at a place where I am trying my best to not take anything for granted and to acknowledge the hand of God when I see it, whether it's in a way that is common or in a way that is unprecedented.  And with so much loss, I've decided to celebrate every win. That's right, I'm officially keeping score.  Here are just a few victories I've tallied for the home team this year.
In May I was diagnosed with anemia.

 

At my follow-up appointment in August my blood count was normal and no evidence of anemia was found.

 

That's a win!
In July my daughter and I tested positive for COVID-19. We showed virtually no symptoms and experienced the healing of God. As I hear more and more about "long timers," who suffer with ongoing aftereffects of the virus, I am keenly aware of what a blessing this is.

 

And if you are tracking the timeline, you noticed that while treating the anemia diagnosis and believing for healing from it, I was diagnosed with COVID-19.

 

The enemy tried to double team me, but he is no match for my squad.

 

What could have been a complication, ended up being a means for God to get even more glory.

 

That's another win!
And there's more…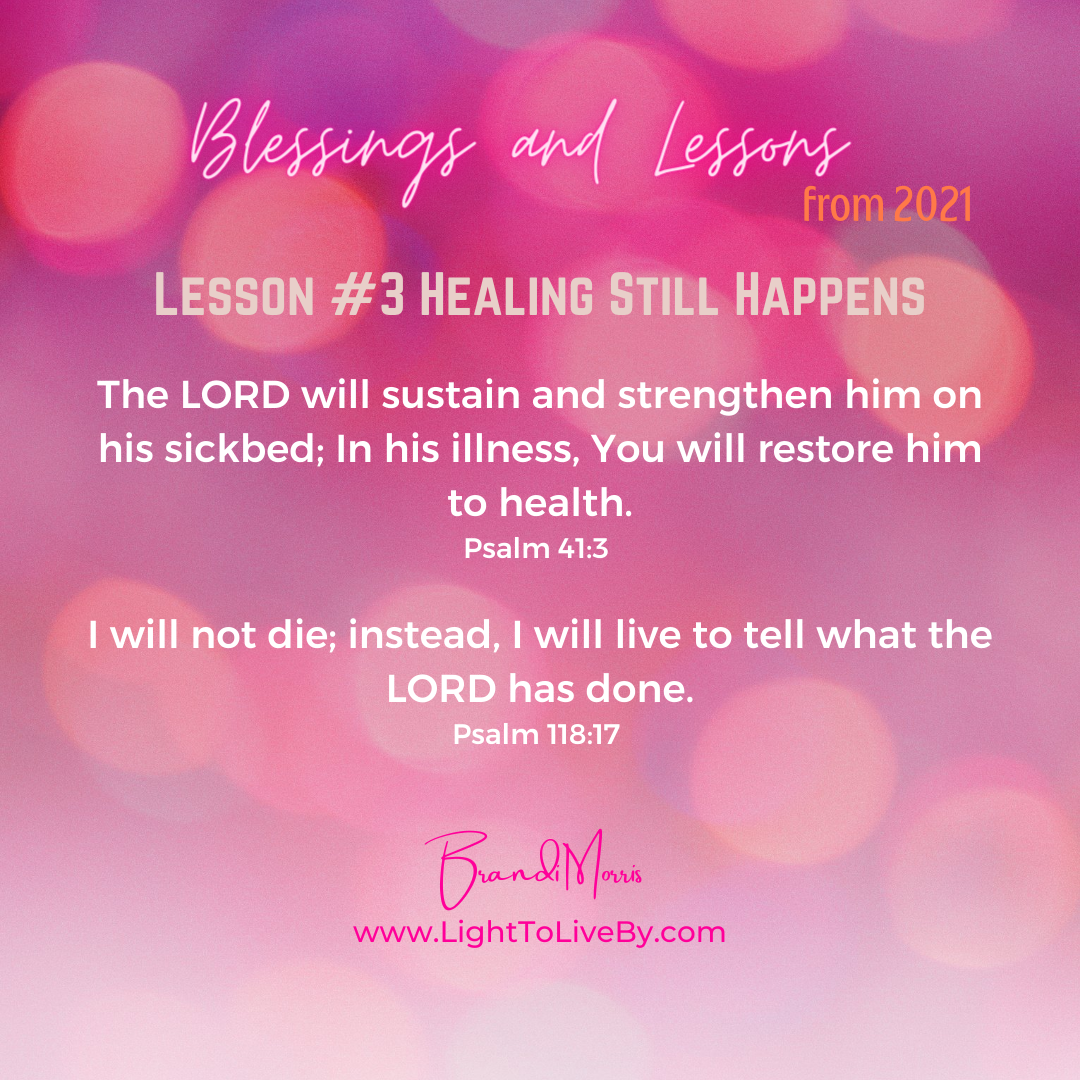 In September a family member had surgery and made an instantaneous full recovery.

 

The problem the doctors were targeting was gone before he left the hospital that day. The surgery was not a major one, but it was one that typically resulted in several weeks of pain, medication, and limited activities.

 

My family member was pain-free, required no medication, and the only down time he experienced was self-imposed as a precaution. And another one!
I have worn glasses since 2009 and had gotten to the point where I needed them when looking at any and every screen, be it TV screen, a phone screen, a movie theater screen, or any other screen.

 

Well, here I sit at my laptop in December 2021 and I have not worn glasses since August. I have had no eye strain, headaches, blurred vision, or discomfort. This miraculous healing followed a string of bizarre incidents involving three pairs of glasses being broken.

 

I began to seek God about the meaning behind these incidents.

 

I felt like God wanted to correct my vision physically and spiritually, and He did just that.

 

This was actually the impetus behind my blog series on vision. Winning!
For some people these instances may seem trivial.  I invite you to believe anyway.  For others, they may bring to mind experiences where your outcome was different.  I invite you to believe again.
In each of these situations, I was simply unwilling to believe anything but the word of God.  So please be encouraged by these scriptures and know that healing still happens.
Psalm 41:3 The LORD will sustain and strengthen him on his sickbed; In his illness, You will restore him to health.
Psalm 103:3-5 He is the one who forgives all your sins, who heals all your diseases, who delivers your life from the Pit, who crowns you with his loyal love and compassion, who satisfies your life with good things, so your youth is renewed like an eagle's.
Matthew 15:30 And large crowds came to Him bringing with them those who were limping, had impaired limbs, were blind, or were unable to speak, and many others, and they laid them down at His feet; and He healed them.
Psalm 107:19-21  Then they cried to the LORD in their trouble, and he saved them from their distress. He sent out his word and healed them; he rescued them from the grave. Let them give thanks to the LORD for his unfailing love and his wonderful deeds for mankind.
Psalm 118:17 I will not die; instead, I will live to tell what the LORD has done.
The countdown continues tomorrow with Lesson #2 and another testimony.
Living In The Light,
Brandi Morris